Thanks Phaedra: 16 'Fix It Jesus' Moments In Pop Culture  was originally published on hellobeautiful.com
1. We Need You Lord!
God bless Phaedra Parks of "RHOA" fame. As a southern belle, she's got some of the best one liners I've ever heard. From "Something in the buttermilk ain't clean," to "I always carry my prayer cloth…" Phaedra's fully equipped to make you giggle. Her latest, "Fix it Jesus," is just the phrase I've been using in response to the ridiculous headlines plaguing the news lately. Here's what Jesus needs to fix.
2. Fix It Jesus!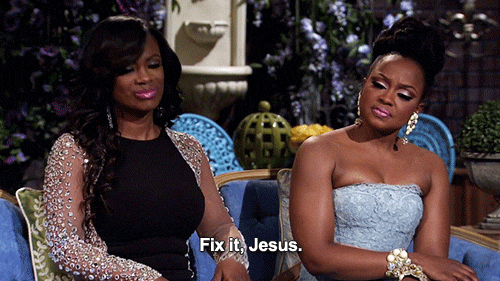 3. Fix ME Jesus!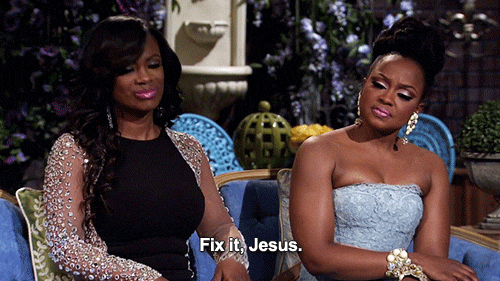 4. Rita Ora's Baby Hair
Ma'am. Just. Stop trying to make yourself happen. I'm calling on you Jesus!
5. Fix It Jesus!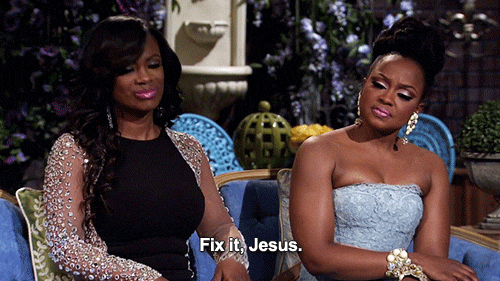 6. Columbus Short's Violent & Crazy Temper
Short was arrested on a felony battery charge after a restaurant fight in March. Last month, his estranged wife, Tanee filed a restraining order against her husband of nearly 9 years after he allegedly came home drunk, put a knife to her throat and threatened to end both of their lives. SMH. His headlines keep getting more violent and ridiculous!
7. Fix It Jesus!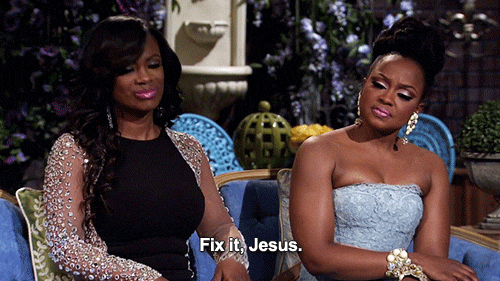 8. Willow Smith Laying With A Grown Man
While I have no idea what the context of this photo is, however 13-year-old Willow Smith was indeed laying in bed with a 20-year-old man and that makes me feel weird. I don't want it.
9. Fix It Jesus!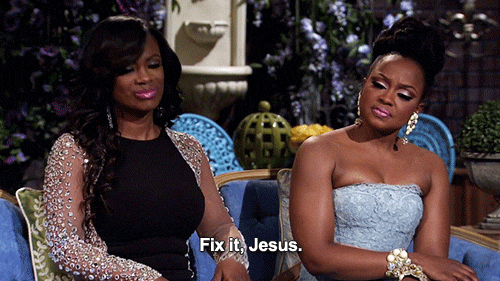 10. Fix It Jesus!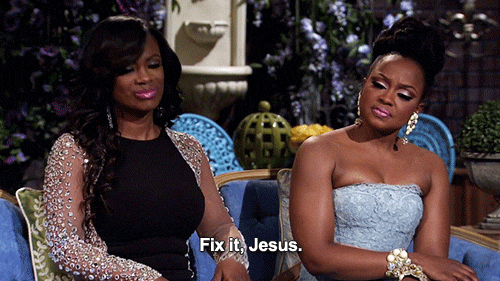 11. Lupita's Entire Met Gala Look
While I have joined #TeamLupita, along with the rest of the world, I was none too impressed with her Met Gala look. This Prada dress borrowed it's steeze from "The Great Gatsby," but I think it should give it back. This look doesn't work and it totally requires Jesus.
12. Fix It Jesus!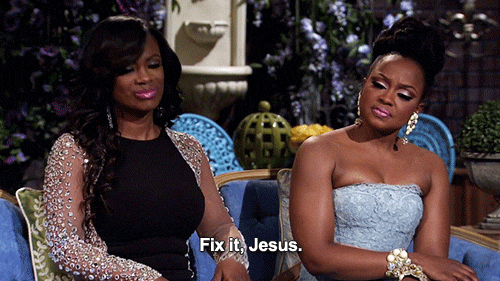 13. Miley Cyrus's Bangerz Show
Oh, Miley's still a thing. Fine. The only way I'll talk about her is if I get to do so judgmentally. Miley kicked off the U.K. leg of her tour (pun intended) and did so with such a bang, we could hardly watch. From crotch shots to molesting stuffed animals, Miley's show was just begging to be prayed over.
14. Fix It Jesus!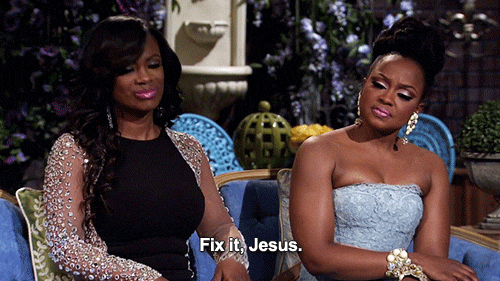 15. Gabrielle Union's Met Gala Dress
Gabby U can usually slay a red carpet, but this beauty opted for a Prada two piece and we're like oh no! This dress needs more than Olivia Pope!
16. Fix It Jesus!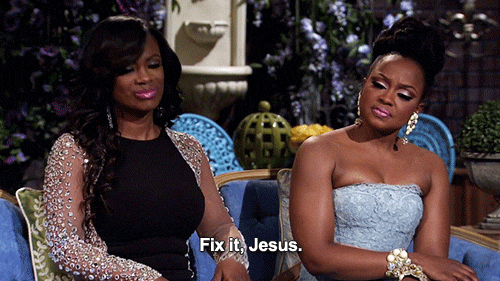 17. Solange's Entire Met Gala Look
Debbie Allen is that you? Oh, no! That's style icon, Solange. What the heck happened? This look makes no sense and needs prayer.
18. Fix It Jesus!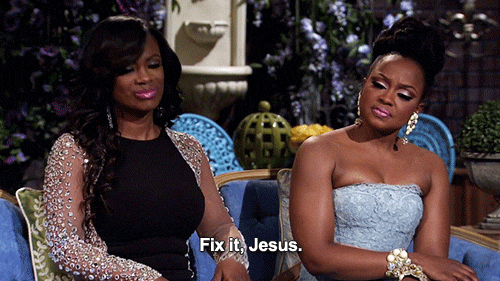 19. Everyday I'm Shoveling
Recently, a video of a girl getting hit in the head with a metal shovel generated over 500,000 views in the first two days of it being uploaded. The fight was reported as a hoax, even after many outlets reported that the girl who was hit with the shovel died. SMH. These "viral" videos are getting more and more outrageous and unreal.
20. Fix It Jesus!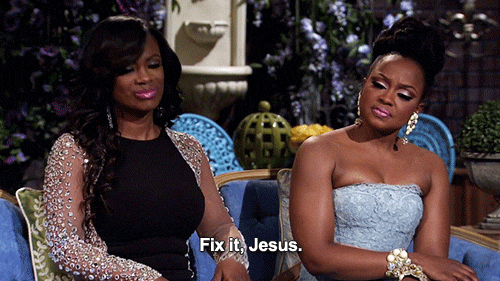 21. Rihanna's Risque Lui Cover
Rihanna's known for being a bad gal and it seems everyone who works with her wants to perpetuate that image. French magazine, Lui made RiRi their cover girl and RiRi's nips were the star! When Rihanna posted the photo on Instagram, she was promptly asked to remove it. Then RiRi removed her entire account!
22. Fix It Jesus!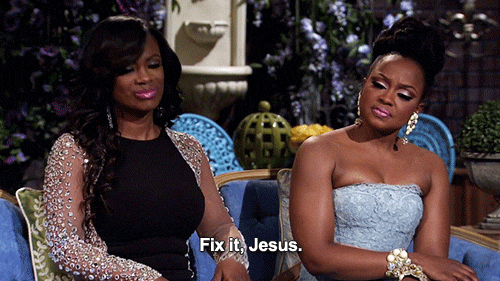 23. Fix It Jesus!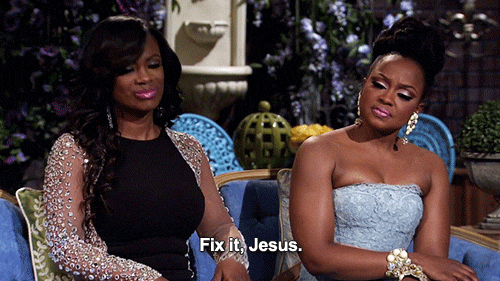 24. Mimi & Nikko's Sex Tape
Sex tapes do not famous people make, unless of course you're Kim Kardashian. And we all know that formula doesn't work for anyone else. When "Love & Hip Hop" stars, Nikko and Mimi opted to go down that same road, I was like, dear God, no. I'm setting up a prayer vigil for these two.
25. Fix It Jesus!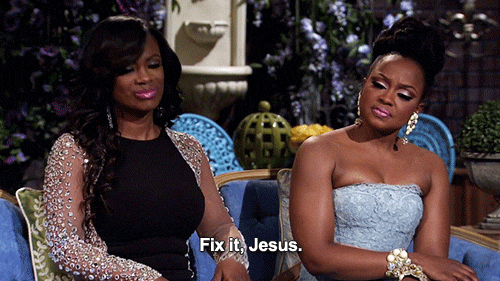 26. Apollo Pleads Guilty
Phaedra's hunky hubby pled guilty to charges of mail, wire and bank fraud and could face 30 years in prison and a $1 million fine, in addition to the $2.3 million that Nida stole from individuals, financial institutions and government agencies. If there was ever a time for Phaedra's famous phase, the time is now!
27. Fix It Jesus!